Best Luxury Yacht Cleaning Company in Dubai-UAE.
We are committed to offering quality service and unmatched value every time. There is no job too small or too big for us, and that is why at Red Carpet we give our best to every cleaning job. At the end of the day, we pride ourselves on being able to deliver complete customer satisfaction by following standards and cleaning protocols. If you are a Yacht owner or a company that requires one-time or regular cleaning services we are glad to offer uncompromised service.
Don't waste any more time looking for Luxury Yacht cleaning services in Dubai. You have come to the right place! As an owner of a luxury yacht we understand and value the trust you put in us, and the quality you expect from us. We won't disappoint you. From beginning to end, we give detailed attention to all the areas and keep the interiors and floors in good condition. Leave the cleaning work to us, and we will give you a Yacht that's party-ready.
Our professional cleaning service covers floors, ceilings, mattresses, carpets, upholstery, and interiors. Additionally, we provide specific cleaning services such as leather cleaning, microfiber cleaning, vacuuming, water cleaning, dry cleaning, maintenance & polishing. We strive to deliver excellence every time, thanks to our specialized equipment, pressure washers, high-quality vacuum cleaners and tools, and a highly trained team.
List of services offered
Inspection
Interior cleaning
Carpet cleaning
Dry cleaning
Deep condition cleaning
Disinfection and sanitization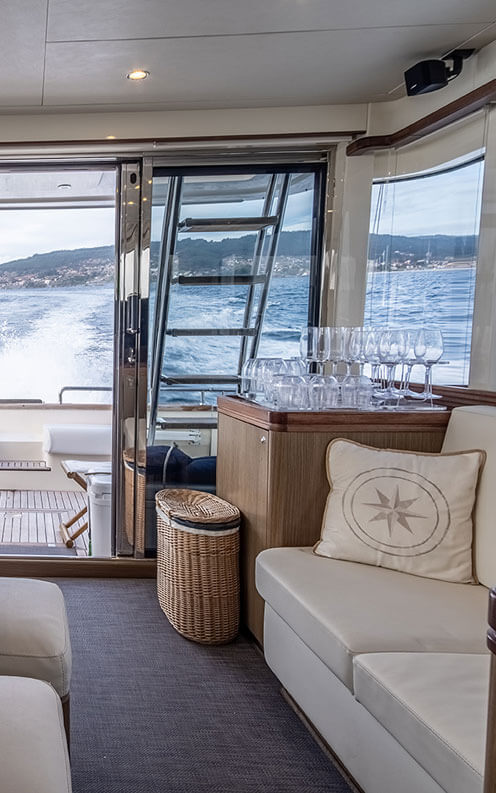 Proffessional Luxury Yacht Cleaning
In addition to these services, we make sure to treat everyday wear and tear before it gets worse. This could mean long-term savings for you. Cleaning your Yacht before moving in and moving out is absolutely essential, and we offer cleaning service at any time of the year. Another reason why people stress on professional Yacht cleaning is that it helps a lot in maintaining the value of your Yacht. Every area gets the deserved attention and love, keeping the Yacht looking new and in good condition. Our experts inspect the different surfaces that requires cleaning and deliver a specific cleaning plan. The equipment, cleaning solutions, and cleaning manner are varied and based on the specific situation.
When your Yacht is in water or docked at the port, the exterior of the Yacht is exposed to salty water, wind, moisture, and other elements, while the interiors soak dirt, bugs, and smoke. Deep cleaning ensures that the outside and inside of the Yacht is kept in pristine condition.
Our benefits
Fast quotes
Competitive prices
Fully licensed and government certified
Easy and convenient scheduling
For your next cleaning job, remember us. We are just a call away!
Your search for the best Carpet Cleaning services in Dubai ends here! Hire us today.